Product Description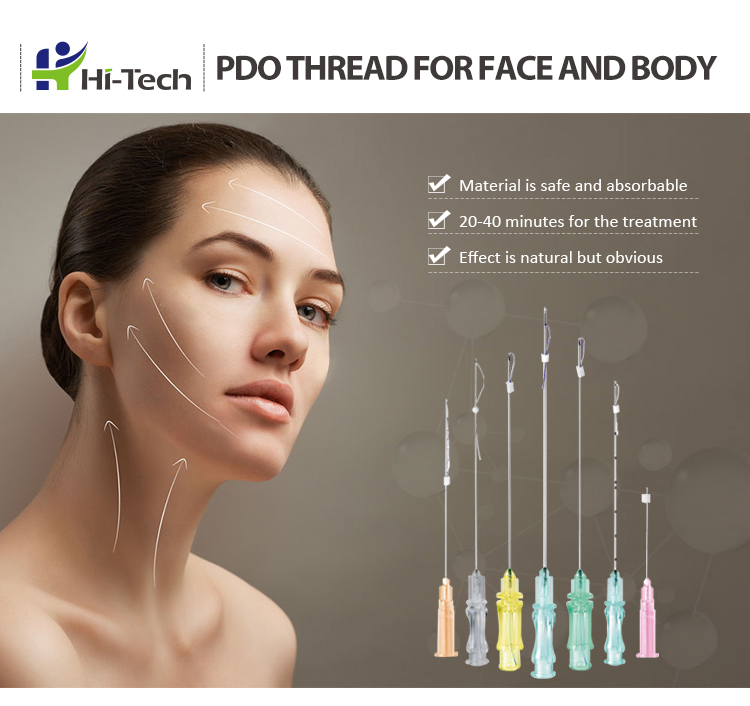 WHAT IS PDO THREADS LIFTING?
PDO Threads is made of PDO (Polydioxanone), it is a thread with no cones, thus no damage to the tissue.
This is the same thread used in Cardiac and other surgeries as sutures, and thus it is very safe.
Threads are implanted into the sub-dermal skin and stimulate the production of collagen, the skin becomes firmer, elastic and moisturised.
The thread dissolves itself in couple of months but the effect last for 18-24 months. The thread can be applied to anywhere on the body, such as a flabby face, cheeks, eyebrows, to prevent eye bags, sagging neck skin, fine lines, wrinkles and lifting of breast.
Injection Process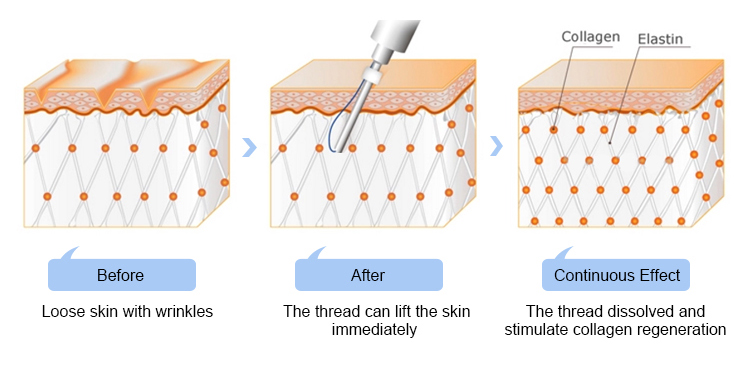 Application
APPLICATION

• Horizontal and vertical forehead wrinkles

• Forehead

• Lowered outer eyebrow ends

• Flaccid tissue, sagging eyebrows

• Lower eyelid - bags under the eyes

• Cheeks

• Naso-labial folds (Smile Lines)

• Mouth corners (marionette lines)

• Sagging cheeks and area under the lower jaw

• Jowls

• Double chin

• Skin furrow on the cheek

• Creased cheeks

• Skin furrows and wrinkles on the neck and cleavage

Detailed Images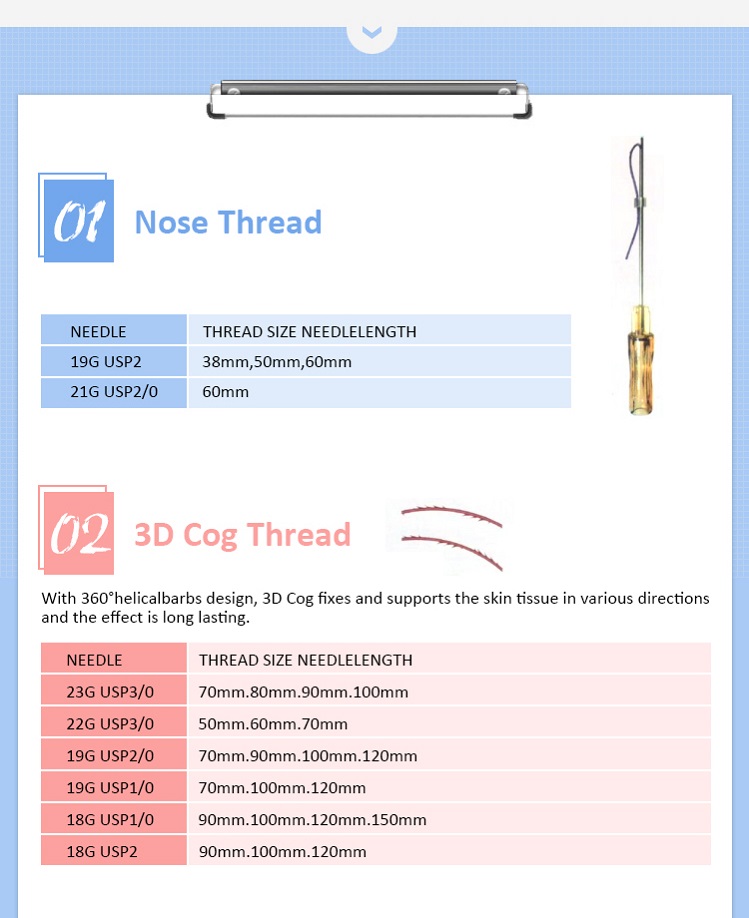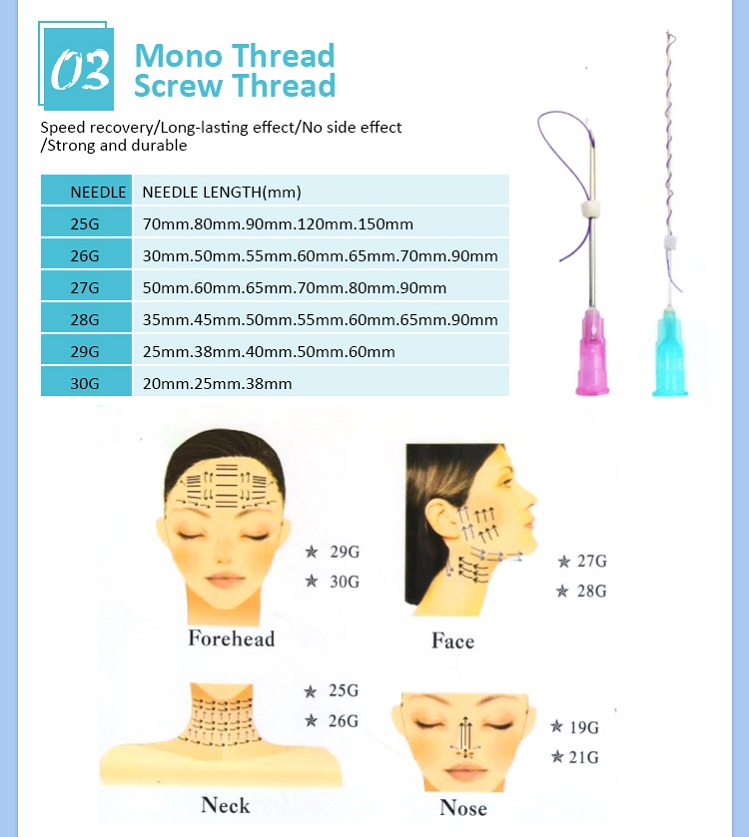 ADVANTAGE

• Mono Type made with Polydioxanone (PDO) suture is widely used in skin rejuvenation and local firming purpose for various body and face areas.

• Twin with 2 strands of sutures enables 2 threads together. That means more collagen induction with less treatment.

• Tornado with 2 strands of threads twisted together.

• Crew with spiral shape suture can lead to localized lifting and internal volumizing. And it widens spaces that the thread is contacted to the skin so that it allows more stimulation of collagen.

• Double Screw with 2 strands of screw shaped sutures can hold skin more tightly and stimulate collagen twice more than normal Screw type.

• 3D COG with 360 ° directional cogs acts to hold the skin like hook when the thread is pulled.
Packing & Storage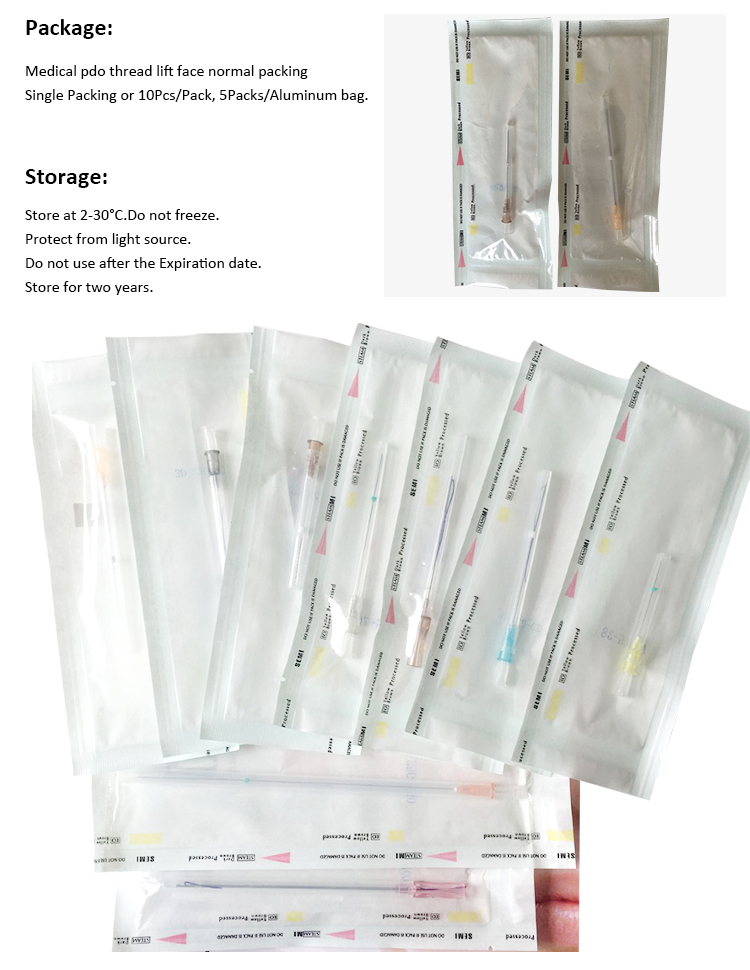 About Us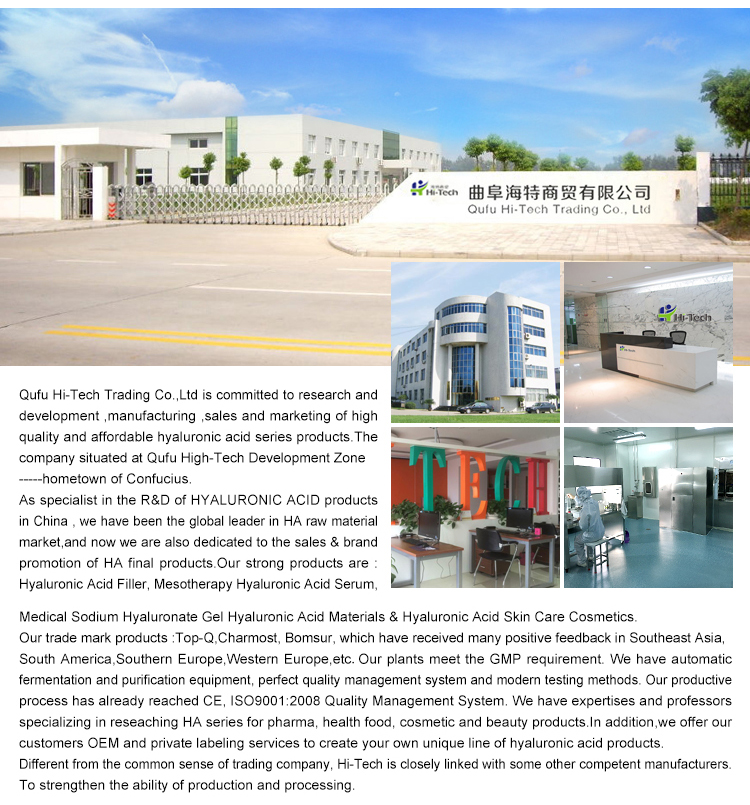 FAQ
Q1: Is it safe?
A: There are very few risks linked to treatment with hyaluronic acid gel injection filler, partly because it naturally occurs in body. It is broken down by body. None of it rernains in skin and the skin does not suffer any damage.
Q2: How long does the effect last?
A: Treatment results will different for each person. In a clinical study, the treatment results lasted for 8 rnonths up to 16months after the first treatment session for rnost patients. Touch-up treatrnents can maintain the desired effect.
Q3: How long will the treatment session take?
A: It is a very quick and easy process to be treated by hyaluronic acid gel injection filler. As no pro-test needed, the treatment can be carried out imrnediately. A treatrnent generally takes 30 minutes.
Q4: Does the injection hurt?
A: Most people find the injections relatively painless. They may prick a little. If you like, a topical anaesthetic can be applied to the area being treated prior to your procedure. VVhen enhancing the lips, local anaesthetic injection is often used.
Q5: Are there side effects associated with hyaluronic acid gel injection filler treatment?
A: Minor complications can occur, but they are generally light and easy to manage. hyaluronic acid gel injection filler side effects include minor swelling, redness, and perhaps some mild discomfort at the injection sitesinflammatory reactions rnay last for up to weeks in rare cases.
Q6: Can hyaluronic acid gel injection filler be used if I have had laser treatment or some other plastic surgery?
A: If you have plastic surgery recently,you should wait for your wound or cut to be healed completely.After the skin is healed back to normal condition,you can take hyaluronic acid gel injection filler Treatment.