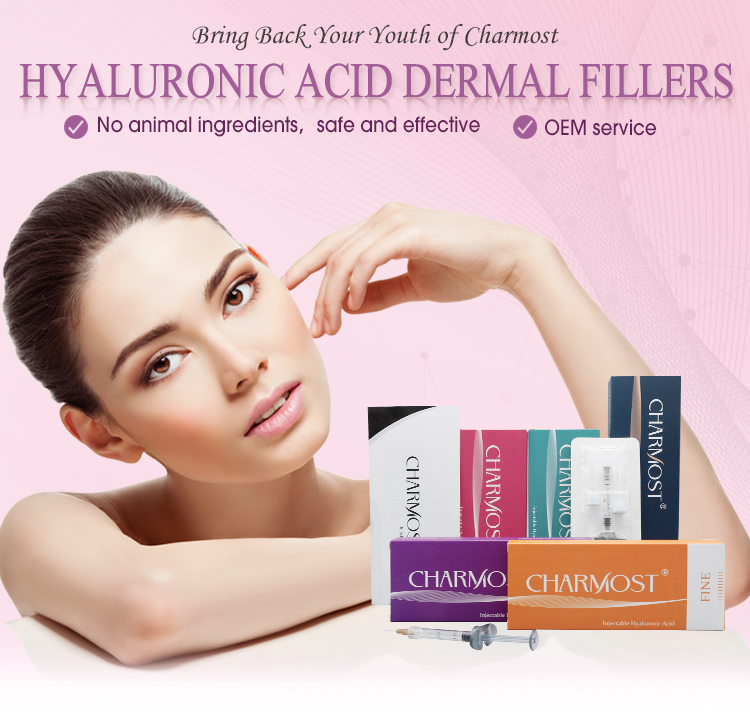 New Charmost® hyaluronic acid products are now available for the correction of wrinkles.
They can easily be injected into the skin, are very stable, and ensure a long-lasting cosmetic result.
They are a facial enhancement and rejuvenation treatment for those who wish to smooth wrinkles, fill in furrows around the mouth, or add volume to the cheeks, lips, and around the eyes.
This new type of hyaluronic acid spreads evenly through the skin, creating a smooth transition between treated and non-treated areas. Once injected the fillers provide support and structure to the skin, giving a plumped and youthful appearance.
Item/Charmost®

FINE

DERM

DEEP

ULTRA-D

SUBSKIN

Content

24mg/ml cross-linked hyaluronic acid

Particles of Size(mm)

Needle Size

Shelf Life

Storage

shady place room temperature

Volume of Syringe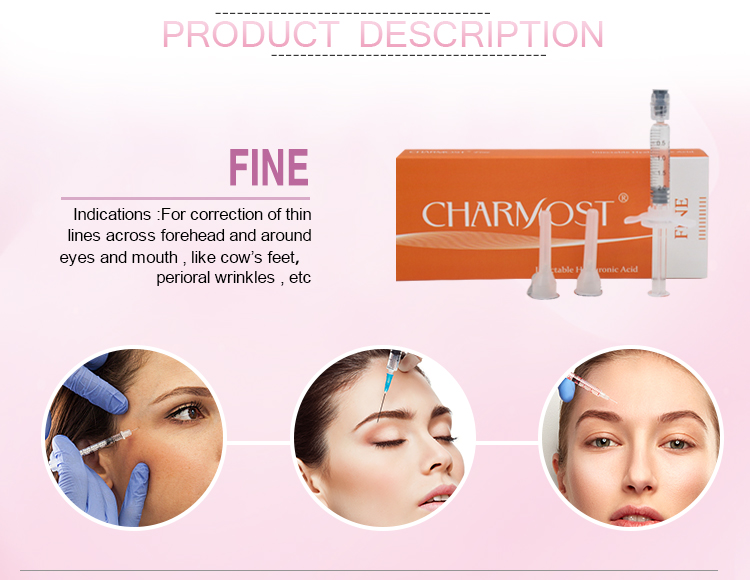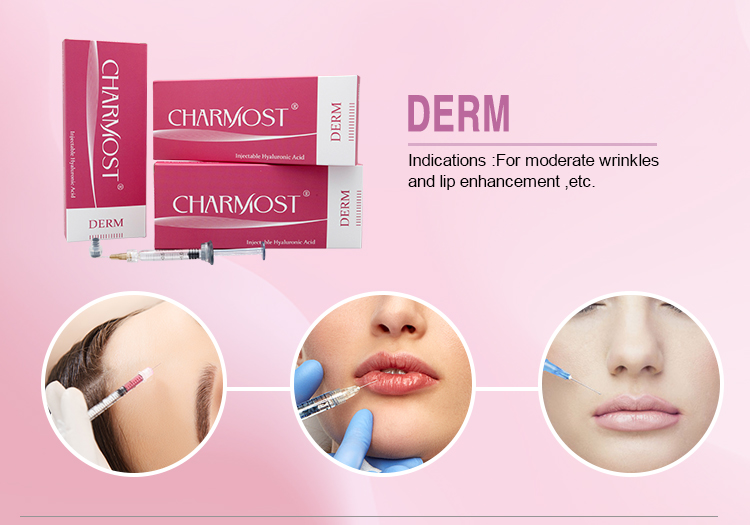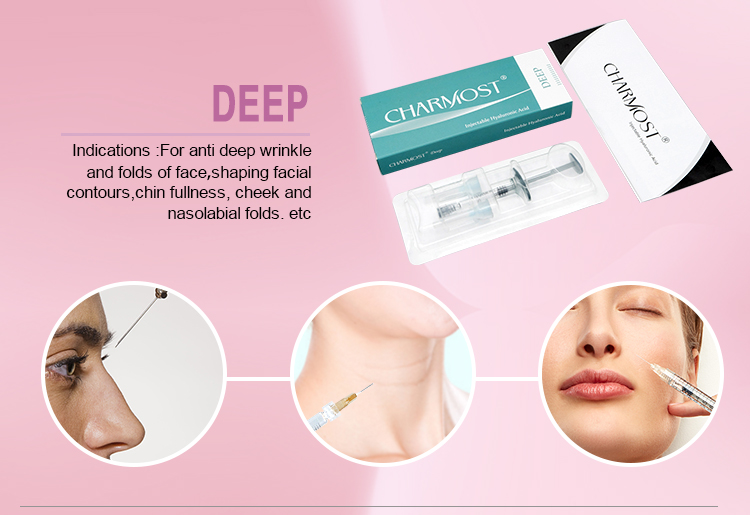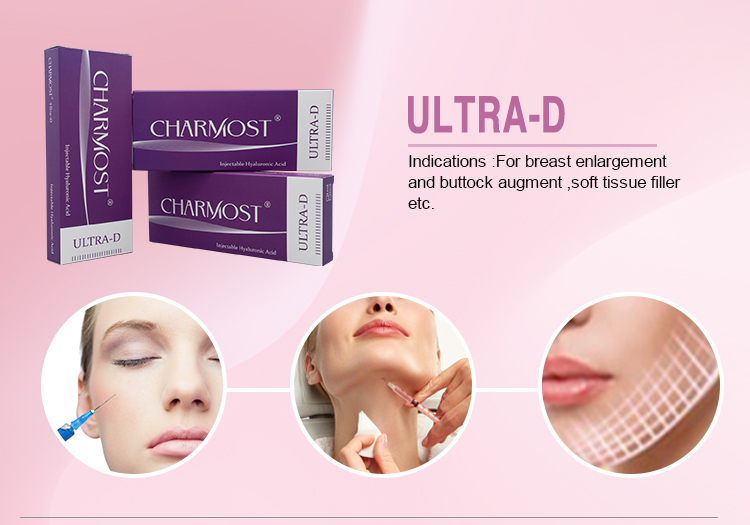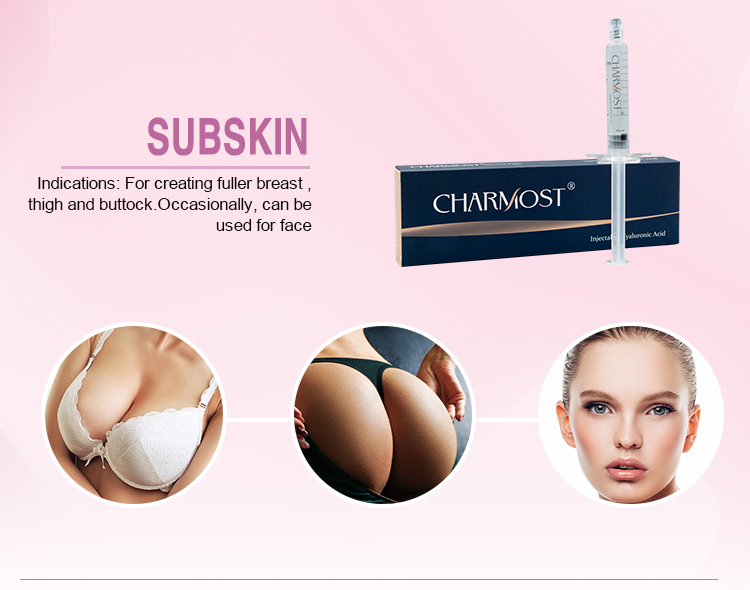 ​

​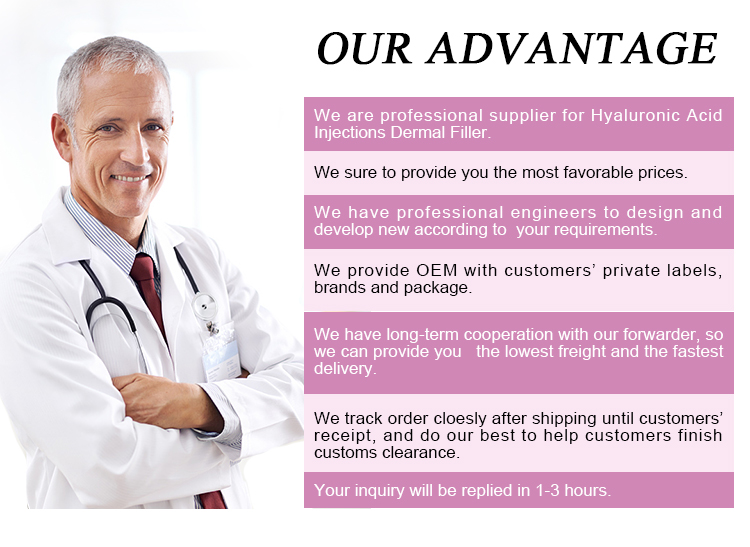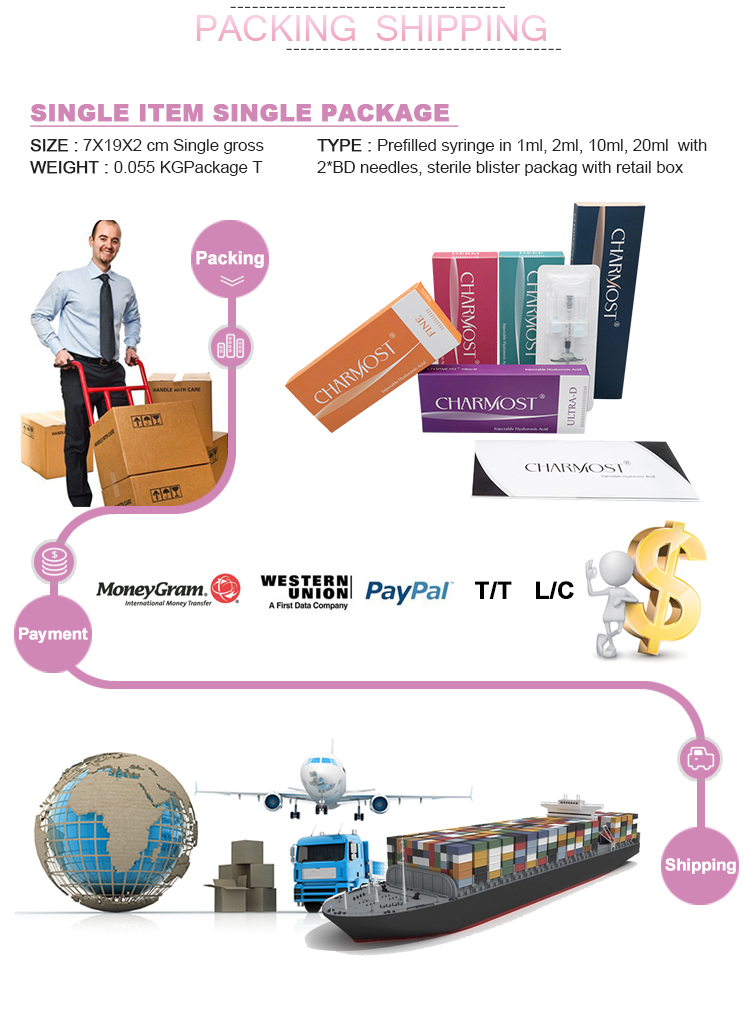 Hi-Tech Are Alibaba Verified Company in China Specialized in the Aesthetic Area and Has Been Focus on Development manufacturing And of Hyaluronic Acid Injection Gel Dermal Filler and Hyaluronic Acid Related Products.
With the Faith of "excellent Quality, Advanced Services and Competitive Prices", Hi-Tech Has Won Numerous Customers' Trust andSupport.
Our Main Products Include DermalFiller (face Filler Injections,buttock Injection,breast Injection), Sodium Hyaluronate Gel (hyaluronic Acid Gel Knee Joint Injection, Ophthalmology Injection), Mesotherapy Serum, Hyaluron Pen, PdoThread, Blunt Cannula, and Other Beauty Equipment.
We Supply Our Brand TOP-Q Also Provide OEM with Customers' Private Labels, Brands and Package. We Have Gmp Standard Factory, Not Only the Product Quality and Safety is Very Good, but Also Have Been Certified by ISO and CE.
The Annual Production Capability Is 60ton of Hyaluronic AcidPowder, 3million Pieces of Dermal Filler. We Currently Supply over75 Countries and Regions,such As Usa,France, Germany, Canada, Etc.
Hi-Tech Products Had Been Highly Recognized and Truste By Customers.Any Inquiry, welcome to ContactUs.
We Have Confidence That You Will Be Satisfied with Our Products and Services.

FAQ
1 . is It Safe?
There Are Very Few Risks Linked to Usement with Charmost® Dermal Filler, Partly Because It Naturally Occurs in Body. It is Broken Down by Body. None of It Remains in Skin and the Skin Does Not Suffer Any Damage.
2 . How Long Does the Effect Last?
Usement Results Will Different for Each Person. in a Study, the Usement Results Lasted for 8 Months Up to 16months After the First Usement Session for Most Patients. Touch-up Usements Can Maintain the Desired Effect.
3. How Long Will the Usement Session Take?
It is a Very Quick and Easy Process to Be Used by Charmost® Dermal Filler. As No Pro-test Needed, the Usement Can Be Carried out Immediately. a Usement Generally Takes 30 Minutes.
4 . Are There Side Effects Associated with Charmost® Dermal Filler Usement?
Minor Complications Can Occur, but They Are Generally Light and Easys to Manage. Charmost® Dermal Filler Side Effects Include Minor Swelling, Redness, and Perhaps Some Mild Discomfort at the Injection Sites.inflammatory Reactions May Last for Up to Weeks in Rare Cases.
5. Can Charmost®dermal Filler Be Used if I Have Had Laser Usement or Some Other ?
You Should Wait for Your Wound or Cut to Be Healed Completely.after the Skin is Healed Back to Normal Condition,you Can Take Charmost®dermal Filler Usement.