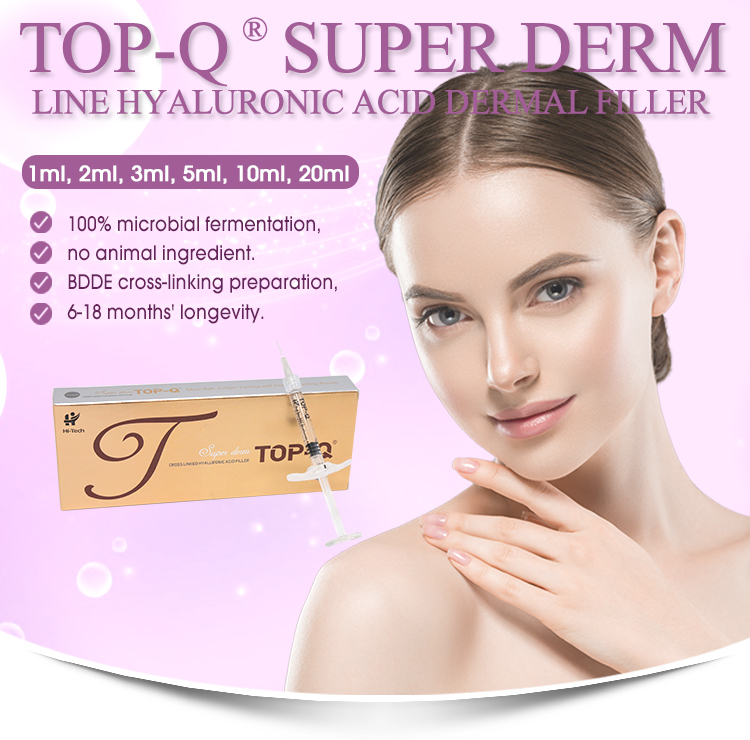 TOP-Q ® Hyaluronic Acid Dermal Fillers is biodegradable gel made of no-animal cross-linked hyaluronic acid, substance that mimics the body's natural depleted hyaluronic acid. They offer a complete solution for using facial line wrinkles, and lips. It also can be used in facial sculpting by enhancing natural facial contours and features.
New TOP-Q® hyaluronic acid products are now available for the correction of wrinkles.
They can easily be injected into the skin, are very stable, and ensure a long-lasting cosmetic result.They are a facial enhancement and rejuvenation usement for those who wish to smooth wrinkles, fill in furrows around the mouth, or add volume to the cheeks, lips, and around the eyes. This new type of hyaluronic acid spreads evenly through the skin, creating a smooth transition between used and non-used areas. Once injected the fillers provide support and structure to the skin, giving a plumped and youthful appearance.
Non-animal source hyaluronic acid
BDDE cross-linked technology ensure uniformity of gel particle
High safety & Rare side-effects
Prompt effectiveness & Natural result
Short recovery period & long duration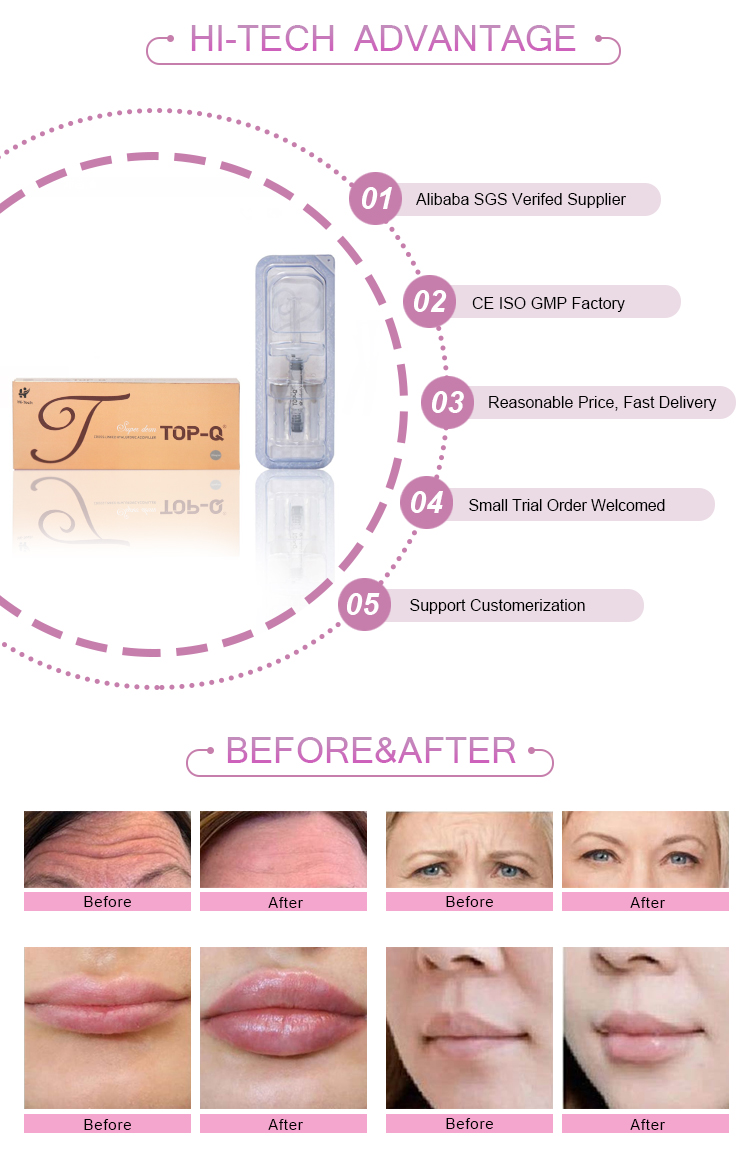 Before injection
1) Please do not do face-painting and drinking on the day you injected.
2) If the package damaged,the preparation product should be discarded.

After Injecion

1) It will a little pain in your head after several hours when you injected.
2) Please don't do face-painting and drinking on the same day after you injected.
3) Please do remember that you should not knead your face, to avoid of hyaluronic acid has not stereotyping yet.
4) Strongly require that please do not touch the injected site on your face in 6 hours.
5) Please do not get Sunbathing, or go into the warm place, steam room, or freezing place, To avoid the damage of the filler before Combined with the skin,after injected within one week.
6) Injceted after 23 weeks, if there still feel a slight lump, please don't worry, it will get soft soon.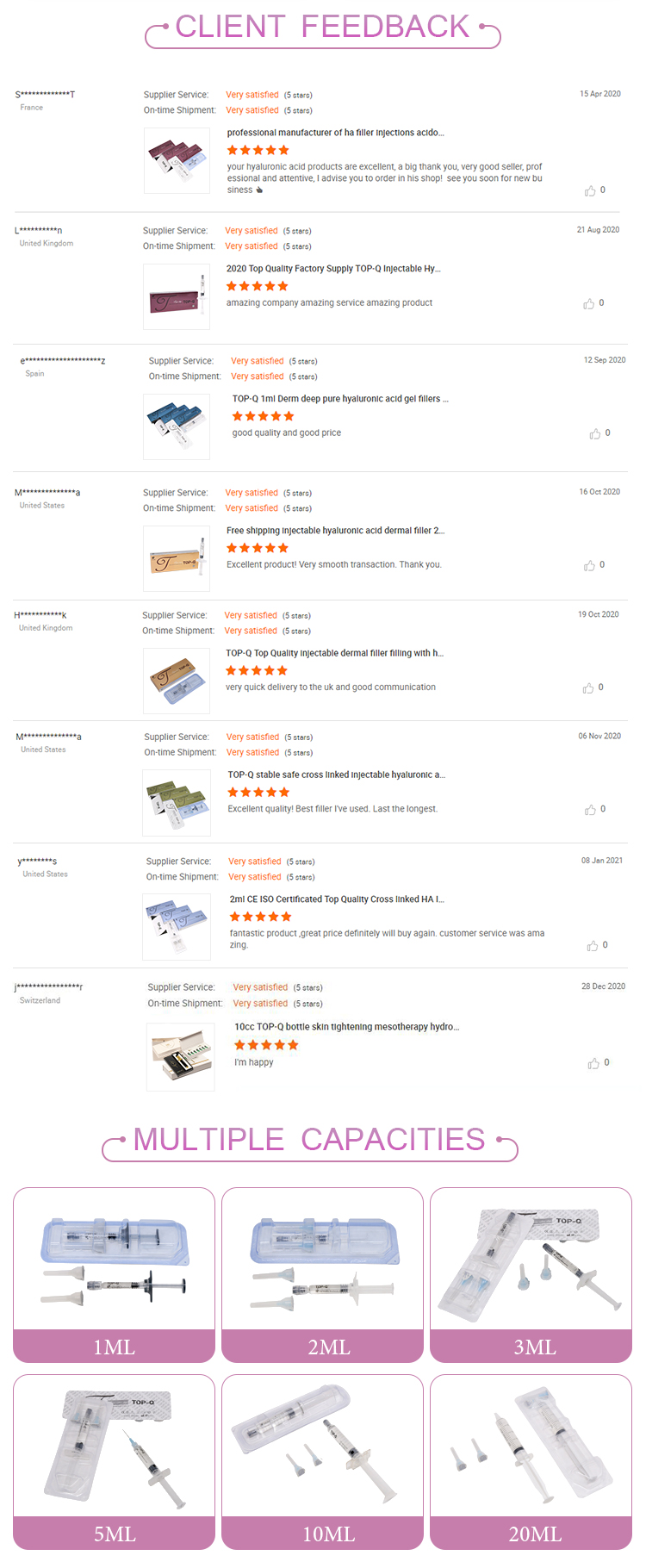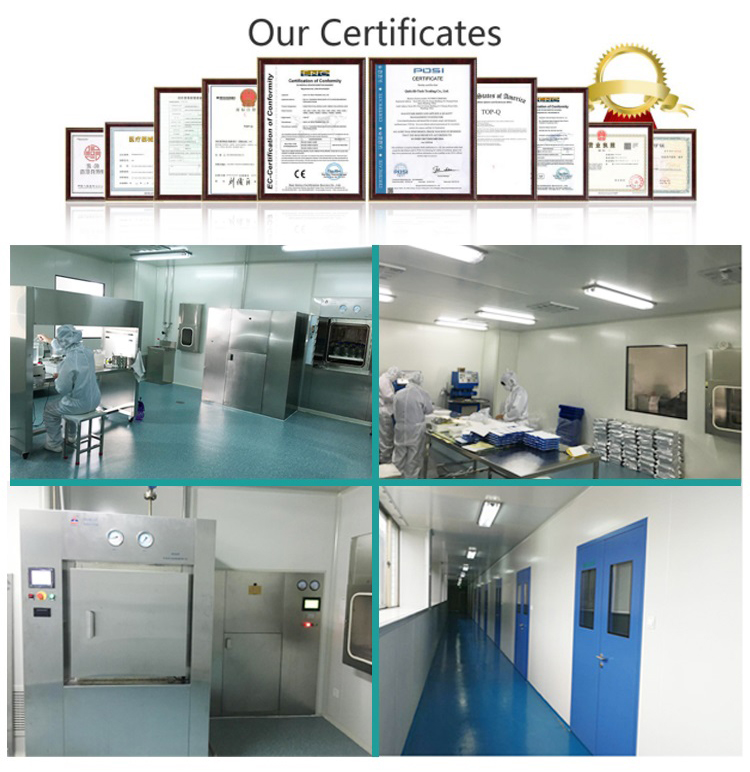 Qufu Hi-Tech Trading Co.,Ltd is committed to research and development ,manufacturing ,sales and marketing of high quality and affordable hyaluronic acid series products .

As specialist in the R&D of HYALURONIC ACID products in China , we have been the global leader in HA raw material market,and now we are also dedicated to the sales & brand promotionof HA final products.

Our strong products are : Hyaluronic Acid Filler, Mesotherapy Hyaluronic Acid Serum, Medical Sodium Hyaluronate Gel ,Hyaluron Pen ,Glutathione Whitening Injection ,Hyaluronic Acid Materials & Hyaluronic Acid Skin Care Cosmetics.

Our trade mark products :Charmost, which have received many positive feedback in Southeast Asia,South America,Southern Europe,Western Europe,etc

Our plants meet the GMP requirement. We have automatic fermentation and purification equipment, perfect quality management system and modern testing methods. Our productive process has already reached CE, ISO9001:2008 Quality Management System. We have expertises and professors specializing in reseaching HA series for pharma, health food, cosmetic and beauty products.

In addition,we offer our customers OEM and private labeling services to create your own unique line of hyaluronic acid products.

FAQ
1 . Is it safe?
There are very few risks linked to treatment with Dermal Filler, partly because it naturally occurs in body. It is broken down by body. None of it remains in skin and the skin does not suffer any damage

2 . How long does the effect last?
Treatment results will different for each person. In a clinical study, the treatment results lasted for 8 months up to 16months after the first treatment session for most patients. Touch-up treatments can maintain the desired effect.

3. How long will the treatment session take?
It is a very quick and easy process to be treated by Dermal Filler. As no pro-test needed, the treatment can be carried out immediately. A treatment generally takes 30 minutes

4 . Does the injection hurt?
Most people find the injections relatively painless. They may prick a little. If you like, a topical anaesthetic can be applied to the area being treated prior to your procedure. When enhancing the lips, local anaesthetic injection is often used.

5 . Are there side effects associated with Dermal Filler treatment?
Minor complications can occur, but they are generally light and easy to manage.Dermal Filler side effects include minor swelling, redness, and perhaps some mild discomfort at the injection sites.Inflammatory reactions may last for up to weeks in rare cases.

6.Can Dermal Filler be used if I have had laser treatment or some other plastic surgery?
If you have plastic surgery recently,you should wait for your wound or cut to be healed completely.After the skin is healed back to normal condition,you can take Dermal Filler Treatment.