​​​
New Charmost Hyaluronic Acid products are now available for the correction of wrinkles. They can easily be injected into the skin, are very stable, and ensure a long-lasting cosmetic result. This new type of hyaluronic acid spreads evenly through the skin, creating a smooth transition between treated and non-treated areas. This anti-wrinkle treatment results in a particularly natural, beautiful appearance.
Charmost supply four types Hyaluronic acid dermal fillers: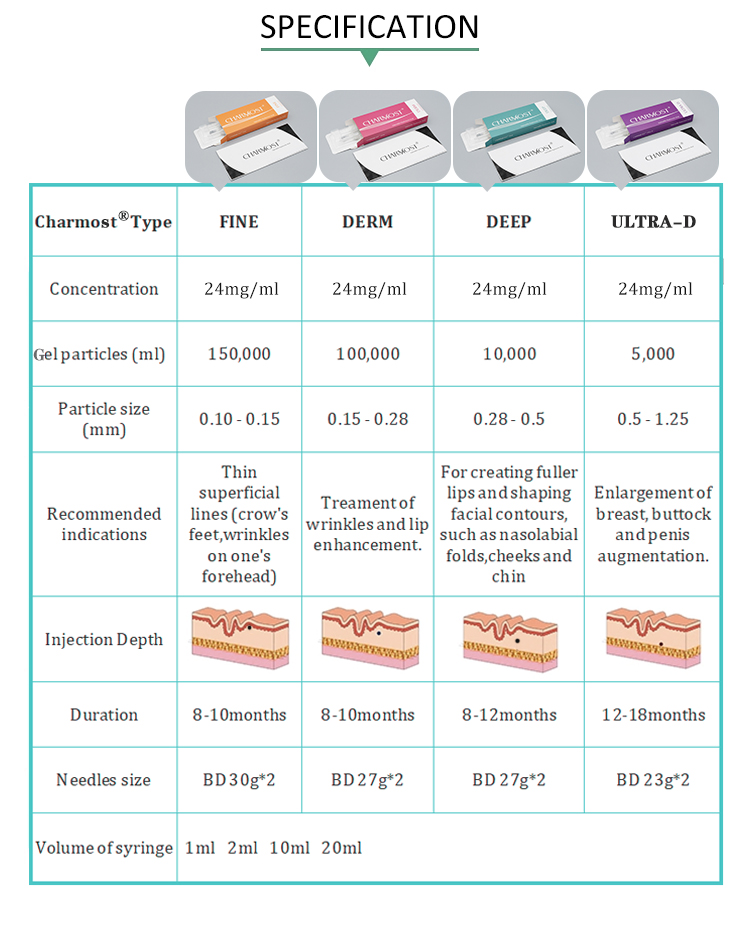 Charmost® Fine (1ml/2ml)
With the smallest particles for the correction of very thin, superficial lines. Injected in the upper part of the dermis. For correction of thin superficial lines, such as worry lines, periorbital lines, perioral lines.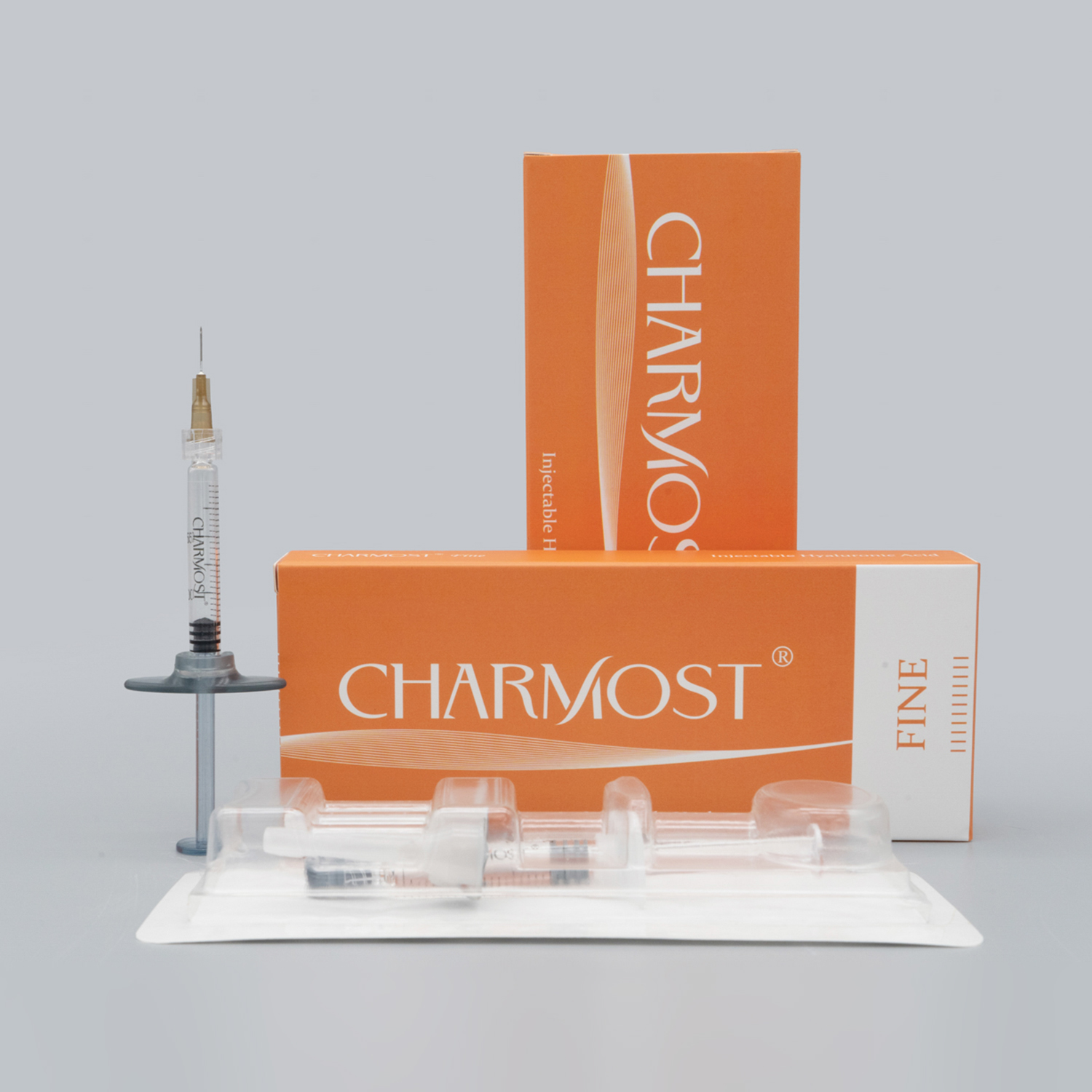 Charmost® Derm (1ml/2ml)
With the moderate particles for the correction of moderate wrinkle Wrinkles. Injected in the Middle part of dermis.For correction of Wrinkles, such as glabellar, lips and vermilion borde.
Charmost® Deep (1ml/2ml)
With the larger particles for the correction of Deep facial wrinkles and folds. Injected in the deep layer of the dermis and/or the surface layer of the subcutis.For correcting deep folds, creating fuller lips and shaping facial contours, such as cheeks and chin.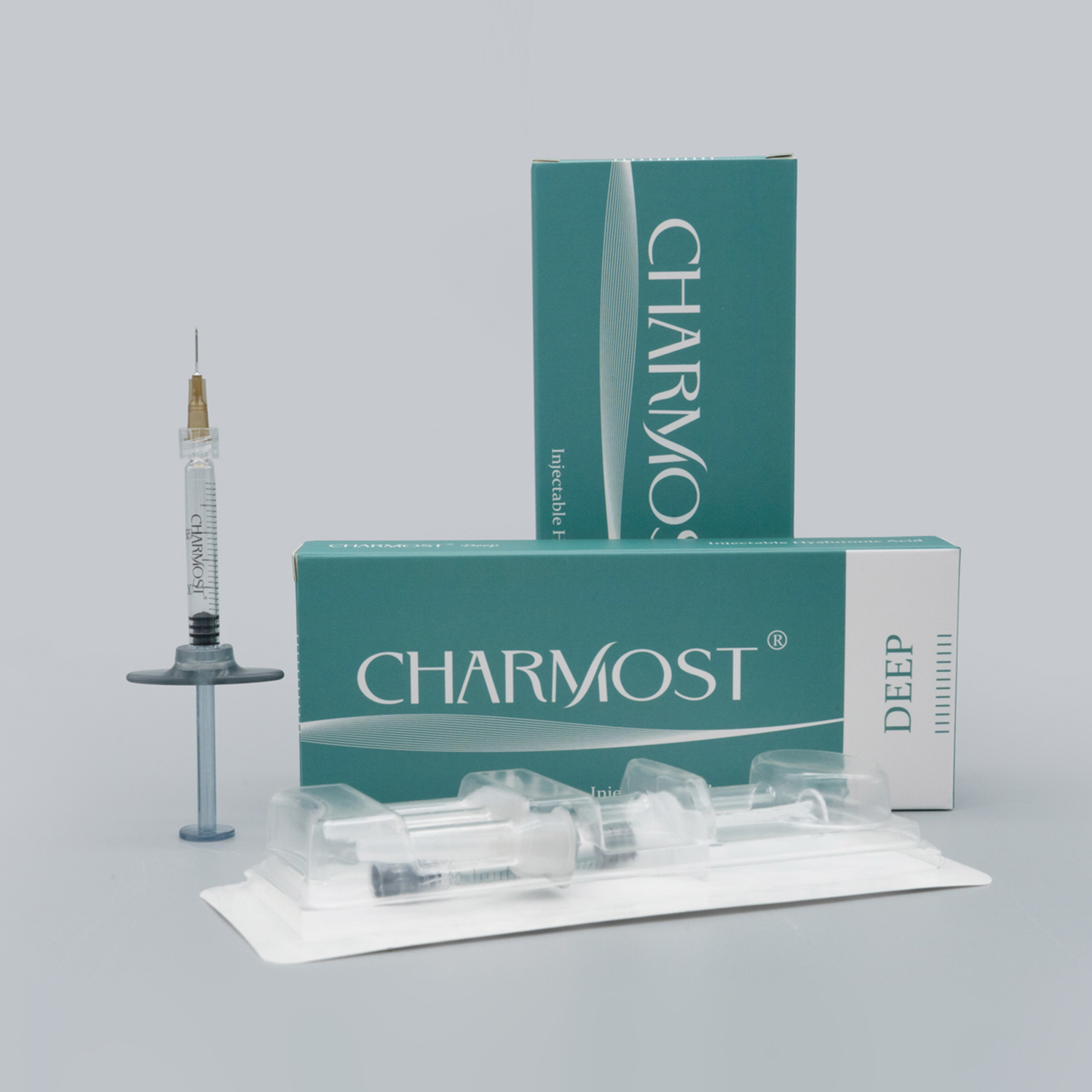 Charmost® Ultra-D (1ml/2ml)
With the largest particles for the correction of Large deep wrinkles and folds. Injected in the deep dermis or subcutaneous tissue shallow. For correcting of large deep wrinkles and folds,,it can fill wrinkles that pars cervicalis hands and chests.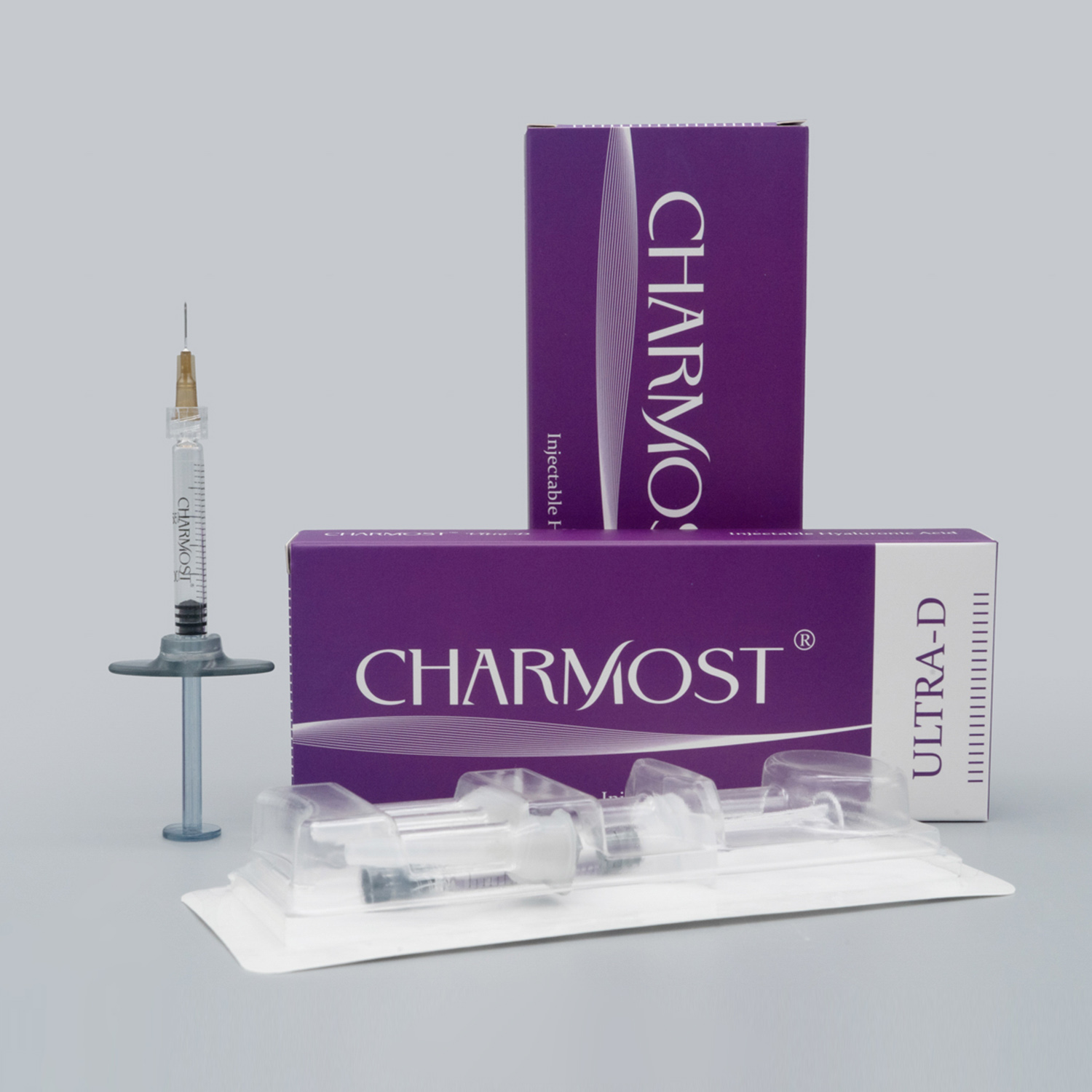 Charmost® (10ml/20ml)
With the largest particles for the correction of Large deep wrinkles and folds. Injected in the deep dermis or subcutaneous tissue shallow.For body shaping, breast or buttocks enhancement.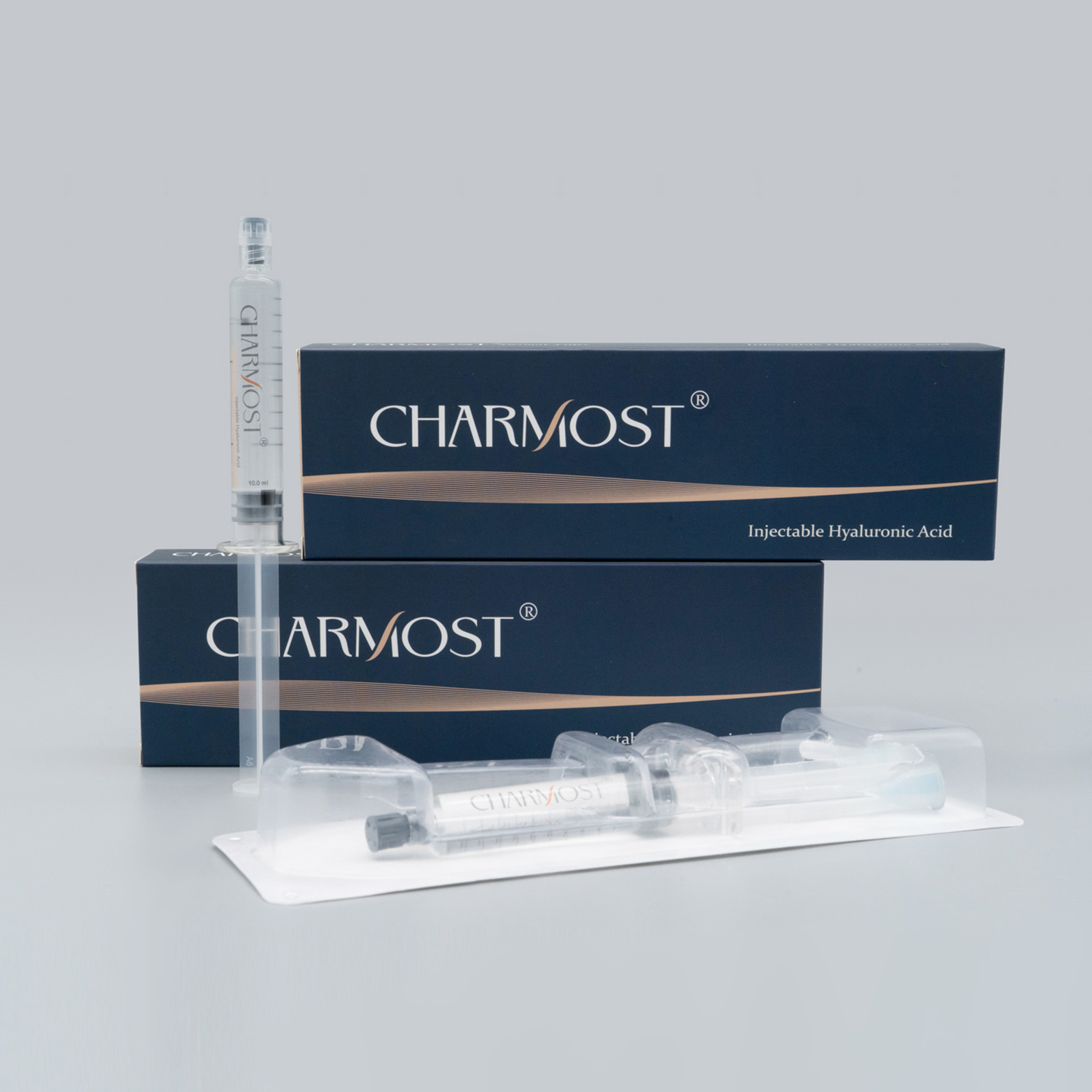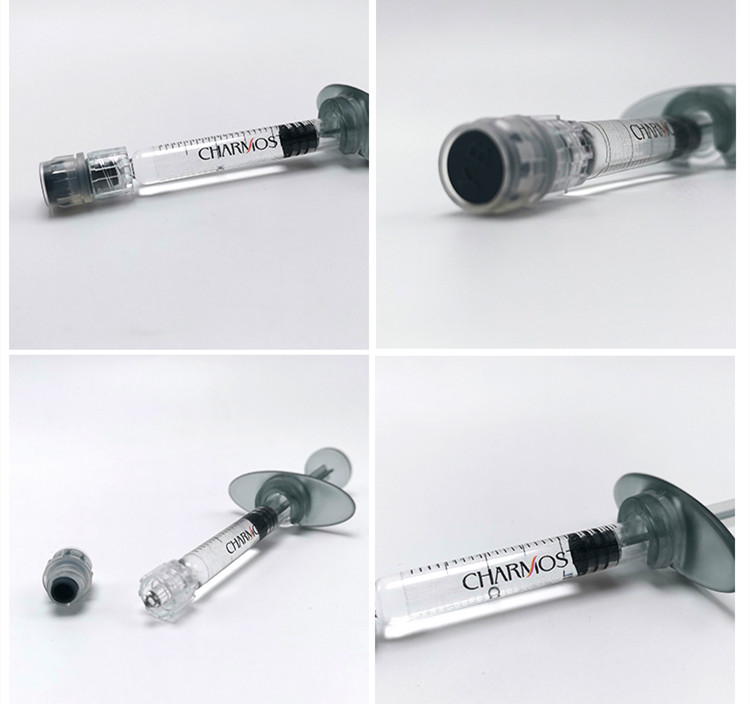 Non-animal source hyaluronic acid
BDDE cross-linked technology ensure uniformity of gel particle
High safety & Rare side-effects
Prompt effectiveness & Natural result
Short recovery period & long duration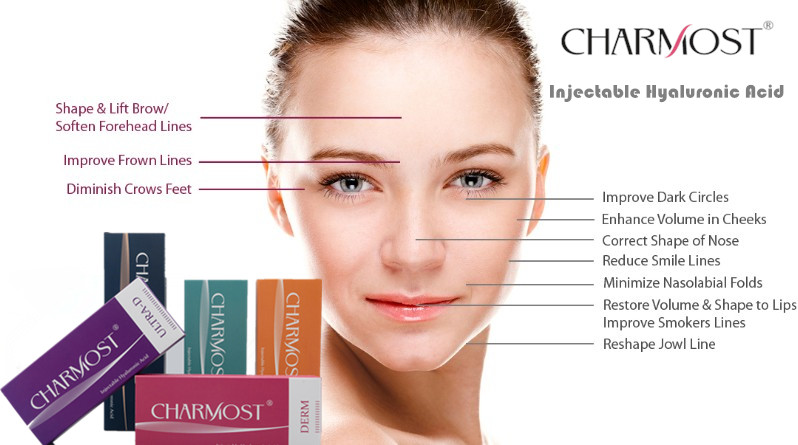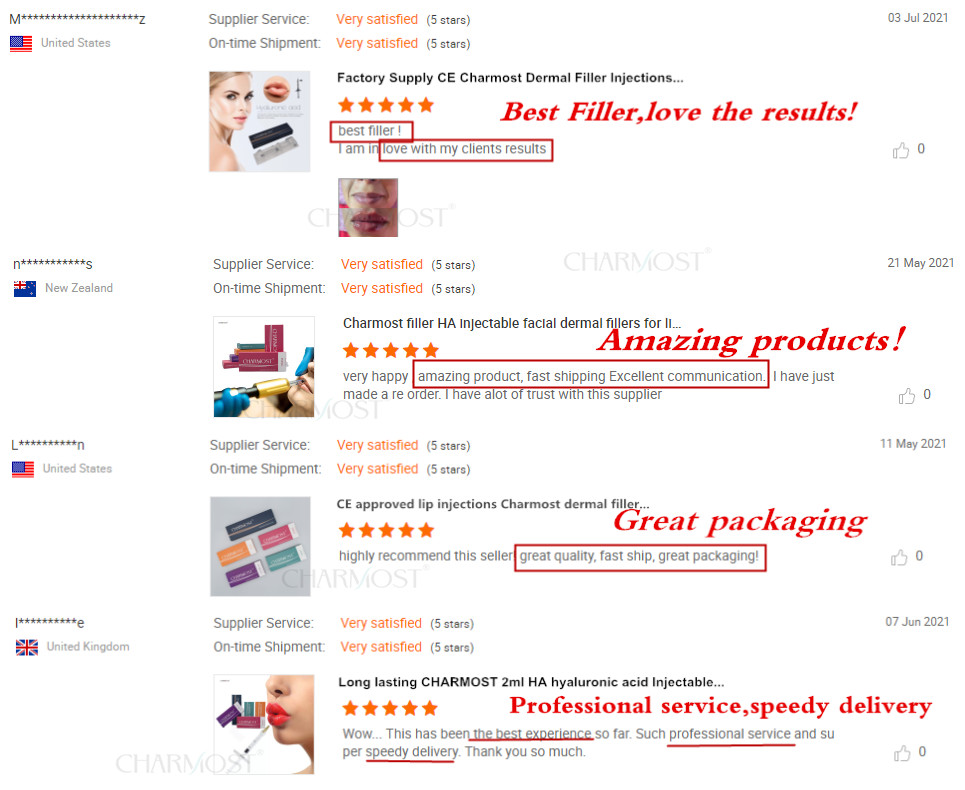 About Us


Qufu Hi-tech Trading Co.,Ltd specialized in the aesthetic medical area and has been focus on development, manufacturing and exporting of hyaluronic acid filler and hyaluronic acid related products. Our factory located at Qufu--Hometown of Confucius.
Hi-Tech main products include Injectable dermal filler, Mesotherapy Serum, Hyaluronic acid intra-articular & Ophthalmology injection, Hyaluron Pen, PDO thread lift, Blunt cannula, and other beauty equipment. Besides, we also provide OEM/ODM as customer demand.
Our workshop has up to GMP production standard, the annual production capability is 60ton of Sodium hyaluronate, 3million pieces of dermal filler.
In addition, Hi-Tech attaches great importance to its own development, we are constantly to improve product quality, introduced advanced technology and equipment, we regularly provide complete product training with our staff, aims to share better products and excellent services with all our customers.
Welcome to visit our company or any inquiry, welcome to contact us, we are willing to share more with you!

FAQ
1 . Is it safe?
There are very few risks linked to treatment with Dermal Filler, partly because it naturally occurs in body. It is broken down by body. None of it remains in skin and the skin does not suffer any damage

2 . How long does the effect last?
Treatment results will different for each person. In a clinical study, the treatment results lasted for 8 months up to 16months after the first treatment session for most patients. Touch-up treatments can maintain the desired effect.

3. How long will the treatment session take?
It is a very quick and easy process to be treated by Dermal Filler. As no pro-test needed, the treatment can be carried out immediately. A treatment generally takes 30 minutes

4 . Does the injection hurt?
Most people find the injections relatively painless. They may prick a little. If you like, a topical anaesthetic can be applied to the area being treated prior to your procedure. When enhancing the lips, local anaesthetic injection is often used.

5 . Are there side effects associated with Dermal Filler treatment?
Minor complications can occur, but they are generally light and easy to manage.Dermal Filler side effects include minor swelling, redness, and perhaps some mild discomfort at the injection sites.Inflammatory reactions may last for up to weeks in rare cases.

6.Can Dermal Filler be used if I have had laser treatment or some other plastic surgery?
If you have plastic surgery recently,you should wait for your wound or cut to be healed completely.After the skin is healed back to normal condition,you can take Dermal Filler Treatment.